Dr. Boothman is a board-certified dermatologist and fellowship-trained Mohs Micrographic and reconstructive surgeon. A native of eastern Washington, he grew up between the wheat fields of Pullman and the orchards of Yakima. Dr. Boothman is excited to return to eastern Washington to train in advanced facial plastic surgery and cosmetics with Dr. Cameron Chesnut, his longtime friend and mentor.
In addition to his work, Dr. Boothman is an outdoor enthusiast, history buff, and trivia master. He most enjoys spending time with his wife and four children.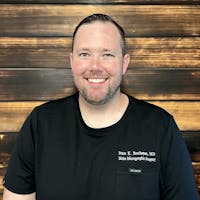 Background and education
Dr. Boothman attended Washington State University, where he graduated Magna Cum Laude and Phi Beta Kappa with a degree in Zoology. He then earned his medical doctorate from the University of Washington School of Medicine and completed his transitional-year internship at Providence Sacred Heart Medical Center in Spokane, Washington.
After moving to the south, he completed his advanced clinical trials research fellowship and Dermatology Residency at the University of Alabama Birmingham. He received world-class training in general dermatology, dermatologic surgery, and cosmetics. Dr. Boothman completed his Mohs Micrographic Surgery and Dermatologic Oncology Fellowship at Surgical Dermatology Group, one of the nation's highest-volume surgical programs.
Dr. Boothman's impressive and vast education includes:
Undergraduate: Washington State University
Medical: University of Washington School of School of Medicine
Internship: Providence Sacred Heart Medical Center in Spokane, Washington
Residency: University of Alabama Birmingham
Mohs Micrographic & Reconstructive Surgery and Dermatologic Oncology Fellowship: Surgical Dermatology Group