At our Clinic 5C Functional Medicine, we believe in optimizing physical and cognitive potential, and we like to do so with the most advanced means possible. Utilizing cutting edge technologies, procedures, emerging tests, and analyses, we can provide you with the tools you need to maximize your performance, and generally optimize your life. A functional medicine approach to primary care aims to identify and treat the root cause of symptoms and provide more comprehensive wellness and preventive care.
Functional Medicine at Clinic 5C
A functional medicine consultation at Clinic 5C Functional Medicine provides an in-depth evaluation of your current state of health and individualized treatment plan. The goal is to identify and address the root cause of symptoms and disease, correct imbalances, and optimize lifestyle, to assist in reaching health goals.
Our goal here is to enhance your current medical treatment plan, discovering ways to supplement what's already there, and sometimes even add what's missing. Do note that things like chronic disease management and medication refills should be continued with your current primary care provider. Primary care memberships may be available depending on your health needs.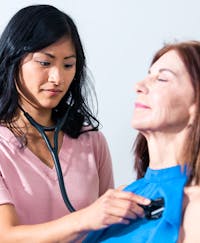 Treatments to Suit Your Many Needs
One of the things we pride ourselves in here at Clinic 5C Functional Medicine in Spokane is personalization. We're not here for standardized treatment packages, or one-size-fits-all modalities. We understand that every patient is unique, and sometimes a bit of finesse is required. This is why we work closely with everyone who comes through our doors. We'll help you figure out exactly what you need, whether that's a simple, straightforward, single procedure...or something of a mix-and-match combination. We frequently customize treatment plans based on our patient's unique needs, and we won't hesitate to do so for you.
Treatment Modalities Available
at Clinic 5C Functional Medicine
Take a look at just a few of the cutting-edge treatment options we offer, here at Clinic 5C Functional Medicine. No matter what you're dealing with, odds are we can find a way to help you enjoy the fullest possible quality of life once more.
Hormone Optimization
With advanced testing and highly precise hormone replacement therapy, we can optimize your body's hormone levels, which yields a number of fantastic health benefits, from an optimized immune system to improved weight loss.
Nutrigenomics
Understanding your genes can help us to understand exactly which foods might interact with your body best. Thorough testing and analysis will give us a genetic roadmap to the dietary recommendations that'll help you live your best life.
Joint Restoration
Age and injury can sometimes cause our joints to begin failing us, which can be painful and frustrating in equal measure. Our non-surgical joint restoration treatment can restore your full range of motion, without invasive surgery.
Sleep Optimization
Utilizing a variety of functional medicine treatment modalities, we can optimize your ability to get a good night's rest...especially if you happen to be spending a lot of time on the road or in an unfamiliar place.