As the signs of aging become more and more apparent, many people search for over-the-counter solutions such as anti-aging creams, lotions, and serums. While these may be effective for a period of time, eventually clients begin to wish for more dramatic improvements. Facelift surgery is always an option, but many busy patients are not prepared to undergo an invasive procedure with an extended recovery time. They seek something effective yet painless.
Neuromodulators (injectables) such as Dysport, Jeuveau, and Xeomin are invaluable tools that can help smooth away the wrinkles, lines, and creases that make you appear older and more fatigued than you feel. At Clinic 5C, we deliver nuanced results that highlight your natural beauty while minimizing aesthetic flaws. Your outcome is always organic-looking and elegant.
What are neuromodulators?
Neuromodulators are made with botulinum toxin. They work by blocking the signals sent from the nerves to the muscles telling them to contract whenever you laugh, cry, squint, or frown. When the tiny facial muscles are temporarily inactive, the skin smooths out, and the complexion appears softer and more youthful.
Injections with neuromodulators such as Dysport, Jeuveau, and Xeomin take around 20 minutes to perform. Your skin is numbed beforehand with a topical anesthetic, so your session is comfortable and painless. Results typically last 3-6 months.
Neuromodulators
What is Dysport?
Dysport is an injectable that is often used as an alternative when a patient has built up a resistance to BOTOX. Dysport is formulated slightly differently with abobotulinumtoxinA instead of onabotulinumtoxinA, but it still works the same way to temporarily incapacitate the tiny wrinkling-forming facial muscles. Dysport results are said to be visible sooner, but changes with BOTOX may last longer.
What is Jeuveau?
Jeuveau uses botulinum toxin type A and works similarly to BOTOX and Dysport by blocking the nerve signals that tell the facial muscles to contract. This newer injectable has risen in popularity due to its cost-effectiveness when compared with BOTOX. One of the main differences between BOTOX and Jeuveau is that Jeuveau is only approved for cosmetic uses such as combating wrinkles and smoothing away lines. BOTOX, by contrast, has many medical uses that include treating migraines and TMJ and helping to ease hyperhidrosis (excessive sweating).
What is Xeomin?
Xeomin uses incobotulinumtoxinA and is employed in the same way as both BOTOX and Dysport. It helps to disable the facial muscles that contract to form wrinkles and lines. Xeomin is considered a "purer" version of BOTOX because it does not contain any additives. For this reason, people who have had trouble with BOTOX in the past find they can benefit from Xeomin.
What are the benefits?
No incisions, scarring, or anesthesia
Resume work, school, or play right away after treatment
Helps combat lines, wrinkles, and creases
Softens and smooths the complexion
Eases the facial expression
Creates a more youthful, pleasant appearance
Enhances self-esteem and self-image
Results last 3-5 months
Painless
Natural-looking outcome
Who is a good candidate?
For some clients, BOTOX does not work quite the way it should initially. For others, BOTOX may have worked just fine at first, but after a time, the body built up a resistance to it. For these patients, Dysport, Jeuveau, or Xeomin can be an excellent alternative treatment that achieves the same age-defying results as BOTOX.
The best way to tell for sure if you are a candidate for Dysport, Jeuveau, or Xeomin is to schedule a private consultation with our team at Clinic 5C. Patients pursuing cosmetic injections should be healthy, both mentally and physically, and they should be non-smokers. They will need to have a realistic attitude towards their outcome as well.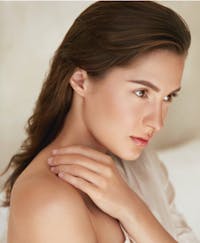 What happens after my treatment?
As with BOTOX, injections with Dysport, Jeuveau, or Xeomin are non-invasive and do not require downtime. Patients can resume their normal activities right away. Minor swelling, itching, tenderness, or bruising at the injection sites will resolve within a few hours or by the next day. Most clients don't consider these side effects serious enough to interfere with their active, busy lifestyle.
Be careful not to rub, touch, or massage your face after treatment, however, as this can cause the product to migrate and may also worsen any bruising. You should also avoid excessive heat and prolonged exposure to the sun after your treatment. Avoid bending over or lying down for 4 hours after your session, and don't engage in vigorous exercise for about 24 hours.
Before & After - BOTOX, Dysport, Jeuveau, Xeomin

The Clinic 5C Distinction
Why choose Clinic 5C?
The injectors at Clinic 5C have elevated Dysport, Jeuveau, and Xeomin treatment to an art form, delivering sophisticated, nuanced results that are carefully tailored to each client's unique needs. Dr. Chestnut is among the industry leaders chosen to instruct other doctors in his cutting-edge techniques. We work closely with each client to produce an outcome that restores not only aesthetic balance and beauty but also quality of life and peace of mind. Call us today to discover how Dysport, Jeuveau, and Xeomin can help you to look and feel more vital.