The presence of acne can be incredibly troubling. It's easily one of the most common skin conditions around, but this doesn't make its appearance any less of a point of frustration. If you've been dealing with troublesome acne, we offer a number of treatments that can help to clear and refresh your skin at 5C | Dermatology in Spokane. These treatments are minimally-invasive and non-surgical, meaning you won't be taken out of commission while dealing with any extensive downtime or recovery period. Reach out today and set up your in-person consultation for acne treatment in Spokane!
What Causes
Acne to Appear?
While it might look pretty simple, your skin is actually an impressively complex organ. It's made up of many parts, and amongst them are sebaceous glands, which produce compounds that keep the skin healthy and hydrated. When these glands get inflamed, the hair follicles in the area become clogged with oil and other debris.
the resulting interplay of inflammatory chemicals leads to what we commonly refer to as acne. Hair follicles and sebaceous glands that have become clogged or otherwise gotten inflamed can sometimes simply present a cosmetic problem, but they can also be painful and frequently leave behind scarring. At Clinic 5c in Liberty Lake, we offer a variety of treatments that can help you clear your skin, and enjoy a healthy, fresh appearance, every single day.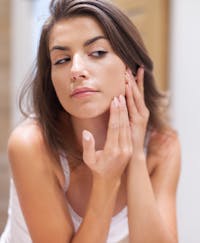 What Acne
Treatments Do You Offer?
The good news is that we offer minimally-invasive, non-surgical treatments to help resolve your acne, here at 5C | Dermatology. We have a long-held commitment to the most state-of-the-art technology and the newest procedures available, meaning you'll be receiving top of the line care when you come to us for help with your acne issues. Take a look at our treatment options below.
Laser Acne Treatment
Using highly advanced laser technology, we can help to work back the appearance of acne, clearing up your skin and allowing you to look and feel fresher than ever. By heating specific layers of the skin, laser skin treatments can greatly reduce the presence of acne, without any kind of surgical procedure.
IPL for Acne
Intense pulsed light, also known as IPL, uses highly specific bandwidths of light energy to not only help reduce the presence of acne, but to decrease the likelihood of scar formation, as well. This treatment is nearly painless, can be performed during a lunch break, and doesn't involve any recovery period.
Microneedling
This treatment creates tiny "micro-channels" in the skin, stimulating the production of collagen and elastin to renew and rejuvenate your skin in a significant way. A topical numbing agent is often applied before the procedure, with some minor redness and swelling temporarily visible afterwards.
Medical therapy
Sometimes, acne can be resistant to treatment with microneedling and energy based devices. In these situations and when medically appropriate, we offer safe oral medications that can treat and in some cases completely cure acne. At clinic 5c, we use the latest evidence to treat acne in the safest and most effective way.

Schedule Your Consultation For Acne Treatment in
Spokane Today
If you've been looking for an effective way to reduce the presence of acne, avoid unsightly scarring, and enjoy fresh and clear skin for good, we have good news for you at 5C | Dermatology in Spokane. Our acne treatments are comfortable, easy, non-surgical, and effective. Reach out and set up an in-person consultation, to learn more about how we can help you enjoy clear, fresh skin today!