According to the World Psoriasis Day consortium, about two to three percent of the world's population suffer from psoriasis, a disease of the skin that usually causes, itchy patches of red, scaly skin, usually in areas like the knees, scalp, elbows, and midsection. While this disease doesn't have a cure, there are a number of treatments offered at 5C | Dermatology that can help you find relief from its most troublesome symptoms, many of which cause both physical and emotional discomfort.
If you've been dealing with psoriasis, reach out and set up an in-person consultation at 5C | Dermatology in Spokane. We can help you get to the root of your skincare issues, and design a regiment that'll help you look and feel your very best.
What Are the
Symptoms of Psoriasis?
One of the most difficult things about psoriasis is that it can differ from person to person, presenting different symptoms in different individuals. We adopt an individualized approach to this condition. You're likely dealing with psoriasis if you've been experiencing the following issues:
Red-colored patches of skin
Thick scales
Smaller spots of saled skin
Dry skin
Cracking skin
Itchy skin
Swollen joints
Joint stiffness
Burning, sore skin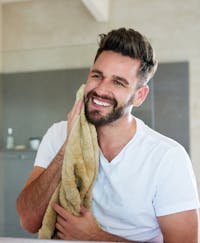 If you think you might be dealing with psoriasis, now's the perfect time to set up an in-person consultation at Clinic 5c in Spokane. We'll take a look at your specific case, while also learning about the unique qualities of your skin. Based on your individual details, we'll create a customized treatment plan that'll help you enjoy healthy, clear skin!
Treating Psoriasis at 5C | Dermatology
Laser Therapy
Using highly advanced laser technology, we're able to not only resurface your skin — removing the damaged outer layer while leaving healthy, rejuvenated cells behind — but we can also stimulate the production of collagen and elastin, allowing your skin to more effectively stay refreshed and hydrated.
Photodynamic Therapy
This combination of topical treatments and light-based therapy is a highly effective way to make the most out a visit to Clinic 5c. This treatment will be customized based on your individual needs, and utilizes either laser treatment or intense pulsed light to activate a highly effective topical treatment.
PRP Therapy
Platelet rich plasma — also known as PRP — can be harvested from your own blood, allowing you to utilize your own naturally-occurring regenerative compounds. With a series of injections, PRP can be used to revitalize and rejuvenate your skin in a significant way.
If you've been feeling frustrated by the dry, itchy, peeling skin caused by psoriasis, we have a number of treatment options available to you here at 5C | Dermatology in Spokane. We'll develop a treatment plan based on your individual anatomy and needs, creating a skincare regimen that'll allow you to look and feel your very best, every day. Reach out and set up an in-person consultation, and learn about how we can help you manage your psoriasis today!