Skin cancer can be a startlingly common condition, with about one in five Americans learning that they're dealing with it during some point in their lives. This common condition can be somewhat frightening, but it's also relatively easy to treat, provided that it's caught early enough. At 5C | Dermatology, we can help you by not only detecting skin cancer and determining its type, but we offer procedures that can help to resolve the major types of skin cancer, allowing you to enjoy healthy, clear skin, and a full quality of life.
If you think you might be dealing with skin cancer, reach out today. The sooner it's caught, the better! We can set up an in-person consultation for skin cancer treatment in Spokane, and set you on the path to healthy skin.
What Exactly
Is Skin Cancer?
As with just about any kind of cancer, skin cancer refers to cellular growth and development that doesn't follow the normal patterns your body is supposed to.
This type of abnormal cell growth can continue out of control if it's not caught early on enough, and the health implications of this can be somewhat serious.
In most cases, skin cancer develops in parts of the body that tend to get the most regular exposure to the sun's UV rays. This is why it's always recommended to use sunscreen, and have adequate covering whenever you plan to be in the sun for a long period of time.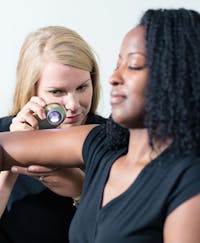 The Most Common Types of Skin Cancer
Melanoma
When caught early enough, melanoma can be fairly simply extracted from the skin with a relatively quick surgical procedure. If it's allowed to develop, however, it can become far more dangerous, and metastasize to other parts of the body.
Basal Cell Carcinoma
This is the most common type of skin cancer in the country, often developing on the parts of the body most frequently exposed to the sun. A very simple excision process can remove this type of skin cancer, especially when caught early.
Squamous Cell Carcinoma
This type of skin cancer can develop on parts of the body that are both exposed to the sun, as well as parts that aren't, making it especially important to treat early. When caught quickly enough, it can be treated with Mohs micrographic surgery.