It's commonly said that your eyes are the window to your soul, but believe it or not, they're much more than that. Your eyes are literally the foundation of the pattern our brains are hardwired to use when recognizing faces, so even subtle improvements in the area around your eyes can have dramatic effects on your overall look, feel, and mood.
It also just so happens that many of the most common signs of aging tend to make themselves known around the eyes first and foremost. Excess skin, sagging, and fatty deposits can create a tired or unnecessarily aged look, robbing you of that youthful glow you know you deserve. Thankfully, Dr. Chesnut and his staff at Clinic 5C offer the Enigmalift for their Spokane eyelid surgery, designed to reshape and rejuvenate your eyelids, leaving you looking and feeling better than ever.
Is Upper Eyelid
Surgery Right for Me?
One of the most useful aspects of the eyelid lift we offer at Clinic 5C in Spokane is that its results offer benefits that are functional and cosmetic, in equal measure. Aging of the upper eyelid often involves the formation of excess skin, with underlying fat pockets also protruding forward, giving an overall heavy and tired feeling to the upper eyelids.
You might be a great candidate for an eyelid lift in Spokane if you've been dealing with:
Extra tissue above the eyes
Fatty deposits
Impaired vision
Wrinkly skin
Bulging skin
Tired, haggard appearance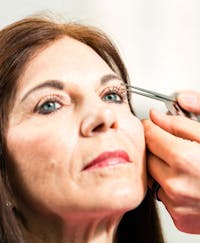 Upper Eyelid Surgery in Spokane
At Clinic 5C, we use a custom-developed, proprietary upper eyelid surgery procedure, developed by Dr. Chesnut to rejuvenate the upper eyelids while simultaneously rearranging and shaping the fat pads, to contour the upper eyelid for a more refreshed, youthful look and feel.
Before & After EnigmaLift Upper Eyelid Surgery

The Clinic 5C Distinction
Clinic 5C's
Commitment to Innovation
With his extensive education and high level of experience, Dr. Chesnut leads the staff at Clinic 5C in the development of innovative procedures, combining modalities and techniques he's learned from some of the most highly-experienced practitioners in their respective fields. We'll work closely with you to develop a highly customized treatment plan, tailored not only to your individual anatomy but also to your personal goals.
We always work towards natural, elegant results, by respecting and preserving your existing facial harmony. If you've been wondering how you can refresh and rejuvenate your eyelids, reach out and learn more about our Spokane blepharoplasty.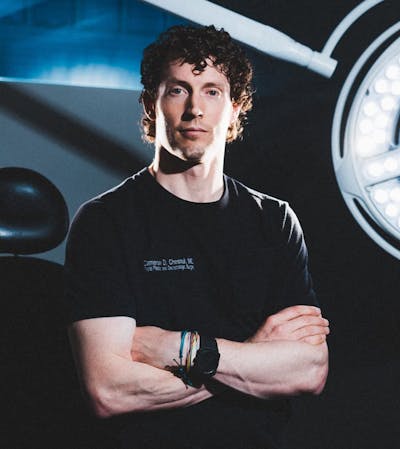 See the World Through Rejuvenated Eyes
If you've been feeling frustrated by the presence of wrinkles, excess skin, fatty deposits, or other signs of aging in the upper eyelid area, then our Enigma lift might be the perfect solution for you. We perform the best upper eyelid surgery Spokane has to offer. Reach out today and set up an in-person consultation. We'll walk you through everything you might need to know about how you can enjoy refreshed and rejuvenated eyes, today.
Pricing Information
To enter the pricing & procedure information page, please provide your contact information and you will receive an email message with our Cosmetic Surgery pricing page.