Hyperbaric Oxygen Therapy
A non-invasive treatment that involves breathing concentrated oxygen in a comfortable pressurized chamber. The pressure makes it possible for the body's cells, tissues, and fluids to absorb more oxygen and increase cellular energy.
Oxygen is the most fundamental element of our cellular function, and its presence affects every aspect of our health. Hyperbaric oxygen is a noninvasive treatment that utilizes a special pressurized chamber to deliver 100% oxygen in increased levels to promote healing and reduce inflammation. While is best known for helping with wound healing and decompression sickness, progressive use of hyperbaric oxygen can help optimize our immune system and ability to fight infections, our brain health by improving central blood flow and improving brain metabolism, which can aid in neurocognitive recovery for traumatic brain injuries and even Alzheimer's disease.
Is Hyperbaric
Oxygen Right for Me?
We'll set up an in-person consultation at our Spokane location, to talk over your issues and figure out together whether or not hyperbaric oxygen treatment is a good option for you.
Hyperbaric Oxygen Therapy has helped individuals who have experienced one or more of the following:
Surgery

Suffered an injury or concussion/TBI

Experiencing Covid long haul symptoms

Exposed to toxins or mold

Need stress or sleep support

Experience joint pains or headaches

Looking to enhance sports performance and recovery

Wanting to increase overall longevity

And more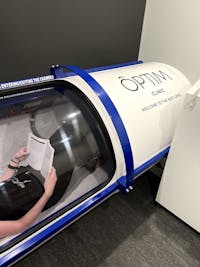 What results can Hyperbaric
Oxygen achieve?
The increased blood-oxygen levels that result from this treatment have been shown to help:
Improve Energy Levels

Improve and enhance the immune system

Reduce Pain, Inflammation and Infection

Support Neurocognitive Performance

Reduce Allergies

Reduce Depression and Anxiety

Improve Brain Health and Migraines

Support Sports Injuries and performance

And More
Packages and Pricing for Hyperbaric Oxygen Therapy
Similar to exercising, you won't notice a big difference after only one workout, but if you workout multiple times a week for consecutive weeks you will begin to see and feel results. This is similar to hyperbaric oxygen therapy. At Clinic 5C Functional Medicine, we recommend at least 3 HBOT sessions a week for a consecutive time frame to fully reap the benefits of HBOT.
Individual Sessions
:
$75 first session, then $150 per session à la carte
Next Level Packages
LEVEL 1: 4 weeks, 12 sessions, $99 p/s, $1,188 total
LEVEL 2: 8 weeks, 24 sessions, $89 p/s, $2,136 total
LEVEL 3: 12 weeks, 36 sessions, $79 p/s, $2,844 total
The Clinic 5C Difference
Whether your goal is to optimize performance, support recovery, prevent disease, or just feel your best, our Functional Medicine team is here for you. We are passionate about providing an integrative approach aimed at uncovering the root cause of symptoms. We utilize comprehensive testing and personalized recommendations to promote wellness and longevity. In addition, our cutting-edge modalities will enhance your health journey.