FUE Hair Restoration
As its name implies, FUE, or follicular unit extraction, is a hair restoration process that involves extracting full healthy hair follicles from one or more donor sites on your head and replanting those follicles in areas of your scalp that lack sufficient hair.
Probably the most significant advantage of the procedure is that, unlike alternate hair restoration methods, FUE does not "strip harvest" or remove a large swatch of skin and hair, but instead carefully takes individual healthy hair follicles out one by one. Thus, no linear scar or visible scarring is left behind in either the donor or recipient sites.
Dr. Chesnut's FUE technique is the most effective, precise, intricate and undetectable way to permanently restore hair loss. Dr. Chesnut utilizes deftly designed, hand harvested, and hand placed follicular units to naturally replace hair loss without unsightly scarring. Mixed with his regenerative medicine protocol, this hair restoration technique defines The Next Level.
The FUE process
Following is a descriptive outline of the steps involved in FUE:
Patient and practitioner select and agree upon a donor site with enough healthy hair follicles for use in the restoration. This is typically the back of the head, but the sides of the head are also options.

The donor site is buzzed but not made bald. This leaves you with hair in the donor site but allows us to get around the individual follicles with the extraction device.

A micro-punch tool is used to extract follicles from the donor site, one by one. Enough hair is also left behind, allowing the donor site to fully grow back and look natural.

Extracted follicles are safely stored throughout the process.

Fine holes are then made in the areas of the scalp we will be restoring hair to.

The extracted follicles are planted in these holes one by one. Distance between holes and the direction of the follicles is carefully done so your new hair blends in and looks natural.

Your new hair grows back naturally and the donor site returns to its original state over time.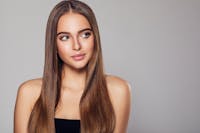 What can FUE treat?
Hair loss
Patchy or inadequate hair
Bald or balding spots
Receding hairline
Male pattern baldness
How is hair extracted in FUE?
Healthy individual follicles are suctioned out one by one from a suitable donor site. The device used is a circular punch with a sharp point that surrounds the follicle and extracts it into a sanitary storage unit for later use in replanting in the areas we are restoring hair to. The process is done carefully by hand and with a lot of attention to detail and safety.
FUE Recovery
Recovery is simple and straightforward. You can return home immediately after treatment and can resume your usual social and professional activities. We will provide you detailed postoperative care instructions that will include points such as:
Not washing or wetting your hair for 3 days

Not exercising strenuously for 2 weeks

Not combing or brushing your hair for 4 weeks

When and how to start washing your hair again

When you can start wearing baseball caps, beanies, and other hats.
Non-Surgical Hair Restoration with Hyperconcentrated Matrix Enhanced Platelet Rich Plasma (ME PRP)
Finally, a consistent and reliable non-surgical option for hair restoration! Platelet-rich plasma has been utilized for years in wound healing and orthopedic conditions, but more recently it has gained traction in aesthetic medicine, especially with respect to hair loss. Several clinicians have had some success in treating alopecia of various etiologies (lichen planopilaris, alopecia areata, etc), but most of the limited data have been focused on PRP use for male- and female-pattern hair loss.
The mechanism of action involves platelets' ability to aggregate together, activate, and release alpha-granules containing various growth factors, such as platelet derived growth factor, transforming growth factor beta, vascular endothelial growth factor, epidermal growth factor, fibroblast growth factor, and insulin like growth factor-1 (IGF-1). Their release increases angiogenesis and vascularization, providing resting telogen hairs the signal that they need to enter the anagen phase. This increased vascularization and mix of growth factors also fosters the proliferation of dermal papilla cells and inhibits apoptosis, helping to prolong the anagen phase. More specific to androgenetic alopecia, PRP may help to counteract certain effects of dihydrotestosterone (DHT). In a mouse model of androgenetic alopecia, DHT was shown to block IGF-1 contributing to hair loss and PRP is a known source of IGF-1.
Platelet-rich plasma is fully autologous and thus provides patients a more "natural" treatment, with side effects limited to procedural discomfort and bruising.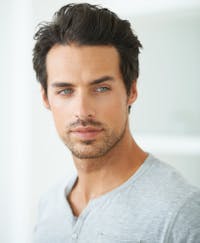 There is no standard system, quantity, or interval of treatment regarding PRP for hair loss, which is why we currently utilize a proprietary hyperconcentrated, matrix enhanced platelet rich plasma concentration and treat patients monthly 4 times, then reevaluate after 8 to 12 months.
If a patient has a response, then retreatment at follow-up may result in continued efficacy if performed at a 6- to 12-month basis.
Alternate Advanced Methods of Hair Restoration
Our ÔPTIM Clinic allows us to provide you advanced alternate hair loss and restoration options from a holistic standpoint. These regenerative methods may include:
Adding

hyperbaric oxygen therapy

before and/or after microneedling with PRP for stem cell mobilization.

Using LED and IV nutrients to support ATP (adenosine triphosphate) production and healing after hair transplant surgery.

Peptide therapy:

Immediately post-PRP, you can utilize PTD-DBM and valproic acid spray topically, then nightly for the month after treatment. [

PTD-DBM Patient Info Sheet

]

Topical use of Zn/GHK-CU daily to accelerate the healing of skin and hair follicles.

Oral TB4 Fragment for angiogenesis, hair regrowth 10 days on, 10 days off, 10 days on (starting on the day of the procedure)
Functional Medicine for Optimizing Hair Growth
Testing and repleting any essential nutrient deficiencies with high-quality supplement recommendations.

Testing and recommendations for hormonal health:

Adrenal/cortisol stress hormone testing and modulation, personalized treatment/lifestyle recommendations.

Female/Male hormone testing and recommendations for balance and optimization.

Hormone metabolite testing, especially examining the androgenic pathway involved in typical pattern hair loss to provide personalized recommendations for optimization.

Informative genetic report on predisposition to Hair Loss, via Self Decode (as well as a plethora of other genetic health information).
How Much Does Hair Restoration Cost?
Hair restoration costs vary from patient to patient, based on the treatment technique, your aesthetic goals, and your unique needs.
Non-surgical hair restoration of the head for male or female patients: $1000 to $1400
Male beard: $1,000 to $1,400.
FUE Hair Transplantation of the head for male or female patients: $8,000 to $18,000
Male beard: $8,000 to $18,000.