Despite a healthy lifestyle most of us have areas of stubborn fat we struggle to get rid of. CoolSculpting is a non-invasive and extremely effective procedure for reducing these troublesome areas without downtime, without recovery, and without changes to your already active lifestyle.
As part of the OPTIM clinic progressive approach, we utilize IV therapy with CoolSculpting and CoolTone to promote detoxification and recovery after treatments, while enhancing results.
Am I a Good Candidate
for CoolSculpting?
A good candidate is a healthy individual with pockets of stubborn fat, areas that are not or less responsive to diet and exercise. The best candidates for CoolSculpting in Spokane are those at a stable weight and mindset.
CoolSculpting and CoolTone are not recommended for those who are pregnant; or have dealt with cryoglobulinemia, cold agglutinin disease, or paroxysmal cold hemoglobinuria in the past year.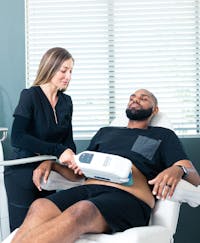 How Does
CoolSculpting Work?
The idea for CoolSculpting comes from the concept of cold panniculitis, which involves a permanent reduction of fat in areas that are lowered to a certain temperature, while the surrounding tissues such as skin and muscle remain unaffected. By utilizing this principle, Coolsculpting helps to remove moderate amounts of fat and can achieve a sculpting type of outcome.
In other words, CoolSculpting literally freezes unwanted fat cells in the treatment area, until they die. When this happens, the cells are eliminated from the body, resulting in the permanent elimination of fat from the treatment area. During the procedure you may experience sensations of pulling, tugging, mild pinching, intense cold, tingling, or aching at the treatment site. These sensations subside as the area becomes numb usually within the first 5-10 minutes. Treatment times vary depending on your treatment plan, this will be explained to you during your consultation.
Experience the ÔPTIM
Difference
At Clinic 5C, we're committed to the most state-of-the-art technology, so we can bring you the most advanced cosmetic procedures available. CoolSculpting can remove unwanted fat without any invasive surgery, and removes downtime from the equation so you can get back to your life without missing a beat.
We offer a number of other non-surgical cosmetic options, as well, all of which can help you to create the look you've always wanted for yourself, without the need to subject yourself to any kind of painful, invasive procedure, or the extensive recovery period that comes along with it. Set up an in-person consultation, to learn more about what kind of non-surgical cosmetic procedures we offer, and how they can help you love the way you look, every single day.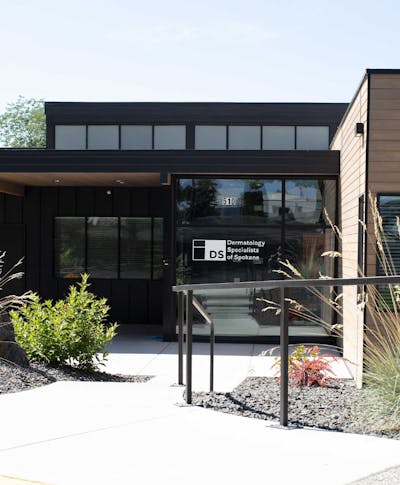 Who will perform my treatment?
Meet Kolbie, our CoolSculpting expert, a graduate of CoolSculpting University, CoolSculpting Master's Program and member of CoolSculpting Faculty, helping to train and educate other practitioners. She began her journey with Coolsculpting in 2015 and most recently CoolTone, the newest innovation in body contouring aimed to improve muscle tone and strength . As a Certified Medical Assistant, she has experience working closely with board certified plastic surgeons since early 2015. This has provided her with an endless amount of education and a profound understanding of body contouring and aesthetics.
Kolbie will take the time to understand each person's unique needs providing a comprehensive treatment plan tailored to the individual. She applies a holistic approach with CoolSculpting and CoolTone and offers as much guidance and support as she can at our clinic in Spokane, WA.
She truly believes when people feel good, they do good. always offer my client the opportunity to involve themselves in their health and happiness.
Can I CoolSculpt
Anywhere on My Body?
Our CoolSculpting experts will take the time to understand each person's unique needs providing a comprehensive treatment plan tailored to the individual. During your consultation we will explain the procedure in detail and answer any questions. OPTIM clinic applies a holistic approach with CoolSculpting/CoolTone and offers as much guidance and support as needed.
We offer other non-surgical body contouring procedures, in addition to CoolSculpting in Spokane, and can work with you to pick out a treatment that's perfect not only for your body type, but for your goals, as well. We also offer IV nutrition, allowing you to detoxify during your treatment, so you can leave our clining both feeling and looking better than ever. It is also FDA-cleared to affect the appearance of lax tissue with submental area treatments, but the CoolSculpting procedure is not a treatment for weight loss.
CoolSculpting is FDA-cleared for the treatment of visible fat bulges in the:
Chin and jawline
Thighs
Abdomen
Flanks
Bra fat
Back fat
Buttocks
Upper Arms
The First Practice in the Region to Provide CoolTone Technology
Meet CoolTone, the latest innovation in body contouring. CoolTone is a noninvasive body contouring treatment that uses Magnetic Muscle Stimulation (MMS) technology to strengthen, tone, and firm the muscles of the abdomen, buttocks, and thighs. CoolTone's powerful MMS technology penetrates below the fat layer to strengthen and tone muscle. The state-of-the-art system features liquid-cooled applicators. No downtime, no modifications to your current lifestyle and no activity restrictions.