Diet and exercise are the keys to healthy living, but it's quite common to run into troublesome spots on the body that just won't cooperate. Sometimes we find ourselves contending with frustrating pockets of extra, bulging fat that just won't go away, no matter how disciplined we are with our healthy behaviors.
At Clinic 5C, we offer Coolsculpting in Spokane, a body contouring procedure that can eliminate unwanted deposits of fat, without the need for any kind of invasive surgical procedure. The process is quick, comfortable, and allows you to get back to your day-to-day life just about as soon as it's over. Reach out and set up an in-person consultation to learn more about what CoolSculpting can do for you today.
Am I a Good Candidate
for CoolSculpting?
The best candidate for CoolSculpting in Spokane is already at or near their ideal body weight but still deals with those remaining few troublesome areas, that just won't go away despite a healthy diet and exercise habits. CoolSculpting is not recommended for those who are pregnant, have an auto-immune disorder, or have dealt with bulimia or anorexia in the past year.
CoolSculpting is FDA-cleared for use in the following areas:
Abdomen
Buttocks & Thigh
Chin & Jawline
Back & Bra Fat
Inner & Outer Thighs
Upper Arms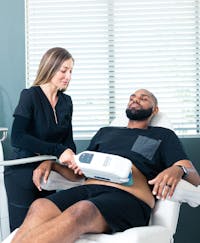 How Does
CoolSculpting Work?
The idea for CoolSculpting comes from the concept of cold panniculitis, which involves a permanent reduction of fat in areas that are lowered to a certain temperature, while the surrounding tissues such as skin and muscle remain unaffected. By utilizing this principle, Coolsculpting helps to remove moderate amounts of fat and can achieve a sculpting type of outcome.
In other words, CoolSculpting literally freezes unwanted fat cells in the treatment area, until they die. When this happens, the cells are eliminated from the body, resulting in the permanent elimination of fat from the treatment area. The entire treatment takes about 35 minutes, and is painless to the degree that some of our patients even grab a quick snooze. There's no downtime whatsoever.
Experience the
Clinic 5C Difference
At Clinic 5C, we're committed to the most state-of-the-art technology, so we can bring you the most advanced cosmetic procedures available. At our facility in Spokane, CoolSculpting can remove unwanted fat without any invasive surgery, and removes downtime from the equation so you can get back to your life without missing a beat.
We offer a number of other non-surgical cosmetic options, as well, all of which can help you to create the look you've always wanted for yourself, without the need to subject yourself to any kind of painful, invasive procedure, or the extensive recovery period that comes along with it. Set up an in-person consultation, to learn more about what kind of non-surgical cosmetic procedures we offer, and how they can help you love the way you look, every single day.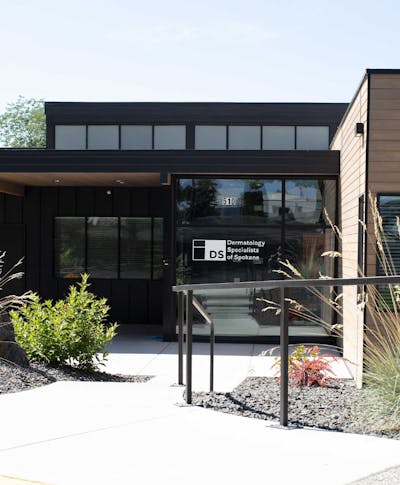 Can I CoolSculpt Anywhere on My Body?
While CoolSculpting is a highly effective body contouring procedure in a number of areas (see above for a list of areas where CoolSculpting is FDA-approved), it's important to remember that this procedure isn't ideal for every single area on the body. Since every patient is unique, we'll work closely with you to determine which type of sculpting procedure is perfect for you. We offer other non-surgical body contouring procedures, in addition to CoolSculpting, and can work with you to pick out a treatment that's perfect not only for your body type, but for your goals, as well.
If you've been feeling frustrated by stubborn pockets of excess fat that just won't go away, despite your diligent diet and exercise, CoolSculpting might be the perfect procedure for you. This non-invasive procedure can be performed right here, at our Spokane facility, and can help you achieve the look you've been dreaming of, without any invasive surgery or extensive recovery period. Reach out and set up your in-person consultation today to receive the best treatment there is of CoolSculpting in Spokane!