It goes without saying that a healthy heart is one of the keys to overall health and wellness in the human body. It's one thing to diet and exercise responsibly, but it's another thing to keep an eye on what we refer to as cardiometabolic optimization, which is another word for the functionality of your heart and cardiovascular system. Here at Clinic 5C Functional Medicine in Spokane, we offer a two-tiered cardiometabolic optimization program, involving both analysis and treatment plan development, so you can live your life with a healthy, happy heart.
Reach out and set up an in-person consultation, to learn more about our cardiometabolic optimization program, and how it can help you improve your heart's health today!
Get to Know the Clinic 5C Difference
Cardiometabolic is only one of the functional medicine modalities we offer. This treatment pairs especially well with a number of other services and modalities we offer, and can help you set yourself on a path to overall health and wellness. Take a look at some of the other regenerative medicine options we offer. Many of these are great for pairing with a cosmetic or medical procedure, but also bring with them a host of benefits on their own:
PRP & Stem Cell Therapy
Infrared Sauna and Cryotherapy
Gut Health Optimization
Hormone Optimization
Neurocognitive Optimization
Hyperbaric Oxygen Therapy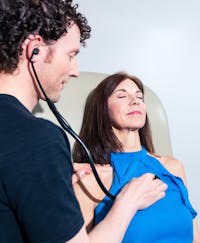 Developing a Customized Treatment Plan
The first step in your cardiometabolic optimization program will be analysis. Through advanced testing, comprehensive lab work, cholesterol panels, inflammatory markers, blood sugar level markers, nutrigenomics, and a variety of other general functional evaluations, we'll obtain a comprehensive overview of your cardiovascular health. This means that we'll not only figure out exactly how well your heart and blood vessels are working, but exactly what we can do to get them working even better.
The next step involves the creation of an individualized treatment plan, highly customized and tailored to your very specific, individual needs. By addressing heart and cardiovascular functionality, we'll be able to better protect you against issues like heart disease and diabetes, while also generally optimizing your body's overall functionality. We can do this with a number of treatments we offer here at Clinic 5C Functional Medicine, each of which does its own part to optimize heart function and health.
Treatment Modalities
Take a look at just a few of the treatment modalities we offer, each of which can help with cardiometabolic in its own unique way.
Lifestyle Recommendations
Simply put, based on your test and lab results, one of the first things we'll be able to do to help optimize your cardiometabolic function is offer a series of lifestyle changes that'll help you accomplish this goal.
Infrared Sauna
More advanced and efficient than a traditional sauna, the IR sauna works by raising your core body temperature directly, without actually heating the air around you. The benefits are many, including heart health.
Cryotherapy/Cold Plunge
Through very brief exposure to extremely cold temperatures, we can encourage your body to function on an optimized level, constricting your tissues and improving blood flow and circulation.
Hyperbaric Oxygen
By breathing in a special, pressurized chamber, hyperbaric oxygen therapy delivers oxygen rich air to the blood, allowing for the delivery of a higher level of oxygen to the body's tissues.
If you think our cardiometabolic optimization program might be the right choice for you, reach out and set up an in-person consultation at our Spokane location! We'll work closely with you to learn about your goals and health issues, and we'll design a treatment plan that's customized to help you meet them. Reach out and set yourself on the path to total wellness today!