Mobile Wound Care
When you're waiting for a wound to heal, it can be very difficult to leave your home, which can often present challenges in receiving the care that you need. At Clinic 5C Functional Medicine, we understand and sympathize, which is why we're now offering a full-service mobile wound care clinic for our patients. While your body is working through the healing process, it's important to get plenty of rest and minimize stress. By bringing our wound care clinic directly to our patients' homes, we aim to make things as convenient and low-stress as possible for them.
What Does Our Wound Care Clinic Treat?
Our mobile wound care clinic will provide comprehensive treatment to patients healing from a variety of conditions. You can utilize our wound care services if you're dealing with any of the following:
Surgical wounds
Non-healing wounds
Diabetic ulcers
Venous ulcers
Pressure ulcers
Arterial ulcers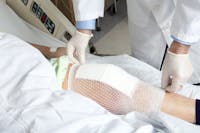 In-Clinic Wound Healing Modalities
In addition to our mobile wound care clinic, we offer a number of in-clinic regenerative modalities at our Spokane and Liberty Lake locations. These effective modalities include hyperbaric oxygen therapy (HBOT) and Pulsed Electro-Magnetic Field Therapy (PEMF). If you're able to make the trip to one of our clinics, these treatments can make a massive difference in the healing process. We always recommend the use of these in-clinic modalities to our patients who have recently undergone cosmetic surgery.

The Clinic 5C Distinction
Why Choose Clinic 5C for Your Wound Care?
With our full-service mobile wound care clinic, we at Clinic 5C Functional Medicine go above and beyond to help our patients heal effectively. We not only make comprehensive wound care simple and convenient, but we also provide the most advanced and effective treatments available. If you'd like to schedule an appointment with our wound care team, simply give our office a call today.