Here at the ÔPTIM Clinic, we offer a number of highly advanced, state-of-the-art regenerative procedures, many of which have an impressively wide variety of benefits, and can help with a number of different issues. We offer cryotherapy and contrast therapy at our Spokane facility, which can help to address a number of issues with the skin, the immune system, cardiovascular system and central nervous system.
With precise and calculated exposure of your body to extremely cold temperatures, we can help calm inflammation, boost your immune system's function, improve your nervous system resilience...and so much more. Reach out and set up your in-person consultation with our experienced staff to find out if cryotherapy or contrast therapy is the right treatment for you!
What Can Cryotherapy
Help Me With?
Cold exposure, or contrast of heat and cold exposure, activates certain proteins and genes within our body to produce numerous benefits, both indirectly and directly. With the breadth of benefits, we will work to develop a treatment plan that is tailored to your specific needs. If a cold plunge is the treatment for you, here are just a few of the benefits it can help you enjoy:
Neural resilience
Improved sleep
Reduced inflammation
Boosted immune function
Decreased stress
Injury recovery
Improved muscular performance
Increased skin tone and elasticity
Cellulite reduction
Expedited exercise recovery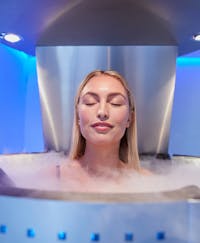 How Does the Treatment Work?
Cryotherapy treatment is a very quick, non-invasive procedure that only takes a few minutes to produce such impressive health effects. Wearing protective gear to keep your nose, ears, fingers, and toes warm, you'll step into a special chamber for just about three minutes, during which time your body will be rapidly cooled. Liquid nitrogen will be used to safely and quickly lower your body's core temperature, and you'll be able to enjoy all the health benefits that come along with it.
The Benefits of Cryotherapy
Perhaps the most impressive aspect of cryotherapy is the wide range of issues it's capable of treating. This simple treatment can help you in the following ways:
The Skin
Cryotherapy can help to improve skin tone, while also making your skin smoother and more even. Your skin's elasticity will be improved, allowing you to retain that youthful glow, and this treatment can also help to reduce the presence of cellulite and generally work back against signs of aging.
Immune System
A cold plunge can boost your immune system's function on a fundamental level by decreasing your stress levels, improving sleep regularity, boosting your energy levels, and generally improving your health and wellness in an overall way. The reduction of stress, in particular, goes a long way.
Muscles and Bone
By increasing your metabolic rate, the cold plunge is a great way to essentially flood your body with endorphins, while also encouraging regenerative processes that offer relief from anything ranging from sports injuries to general muscle soreness.
Endocrine System
Cryotherapy is a great way to reduce fatigue by systemically reducing the presence of inflammation, while also decreasing muscle pain and accelerating the recovery process. Athletes frequently use this treatment to improve performance.
If you've been wondering how cryotherapy in Spokane can help you, reach out and set up an in-person consultation! We'll work closely with you to hear about your issues and your personal goals, and we'll let you know which of our treatments can help you get to exactly where you want to be.