We all know that the sun is necessary for all living things... what if we could harness that energy, and use it for its many direct health implications. The infrared sauna treatment at ÔPTIM Clinic in Spokane produces the same heat as the sun, which warms your core body temperature from the inside, as opposed to warming it by heating the air around you (as with a traditional sauna) for a more effective treatment via the release of heat shock proteins. IR saunas have actually shown to be about seven times more effective than a traditional sauna, and can increase the number of toxins released through your sweat by about 20%.
Our sauna is also specifically selected to be large enough to do yoga, mobility, breath work, or have a multi-person meeting, and it is often paired with Cryotherapy for a contrast session.
How Can an IR Sauna
in Spokane Help Me?
Our infrared sauna treatment is one of our patients favorites for the wide number of issues it can treat. By heating your body directly, from the inside out using infrared light, our IR sauna can help address a number of issues, including:
Boosting your immune system
Detoxify your blood
Clear out glands & release built-up toxins
Improved metabolism
Increased blood flow
Relieves muscle pain & tension
Helps with joint stiffness and sprains
Reduces stress fatigue
Infrared-sauna
Refresh and rejuvenate
Improve body function on a cellular level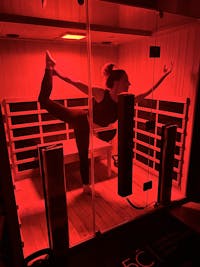 Enjoy the ÔPTIM Clinic Difference
If you've been wondering about what an infrared sauna treatment in Spokane can do for you, reach out and set up an in-person consultation with the ÔPTIM Clinic. This highly advanced treatment can help with everything from skin tone to your immune system, and all without the need for any invasive procedure or lengthy recovery period. Reach out and learn how an IR sauna can help you today!